Troubleshooting Accounts That Already Exist in a Different Organization
Symptom
In certain instances, you might attempt to create a standard account or a guest account, and instead receive the following error:

Cause
The system stores one email address per user account stored in the system, including administrator accounts, standard user accounts, and guest accounts.
The error message described above indicates that the email address has already been used to create one of these account types.
Within the AXIS CloudSync SaaS environment, another organization—including organizations operated by another company or administrator—might already have used this email address to create an account.
As a best practice, we recommend working with the end user to resolve this issue.
Resolution
To resolve this issue, we recommend contacting end users who are affected by this error. End users can then log in using their original credentials and change the email addresses linked to the original account. If the end users cannot remember their passwords, the passwords can be reset from the Login page.
Change the email address linked to the original account
1. Navigate to the web portal URL.
For SaaS environments, end users can navigate to our web portal.
2. If credentials are known, enter the appropriate email address and password to log in.
3. Alternatively, click the Forgot Password link.




The Reset Password page displays.
In the Reset Password page, enter the appropriate email address and then click the Request button.


A confirmation message displays, indicating that a password reset link will be delivered to the provided email address.





Note: For instructions on how to disable Two-Step Authentication, please reference the Enabling Two-Step Authentication Knowledgebase article.
When end users have access to the web portal, they can then change the email address associated with this original account.
For standard user accounts, click the Logged In As link in the top banner of the web portal.





The Account Settings page displays, providing the opportunity to change the email address associated with the account.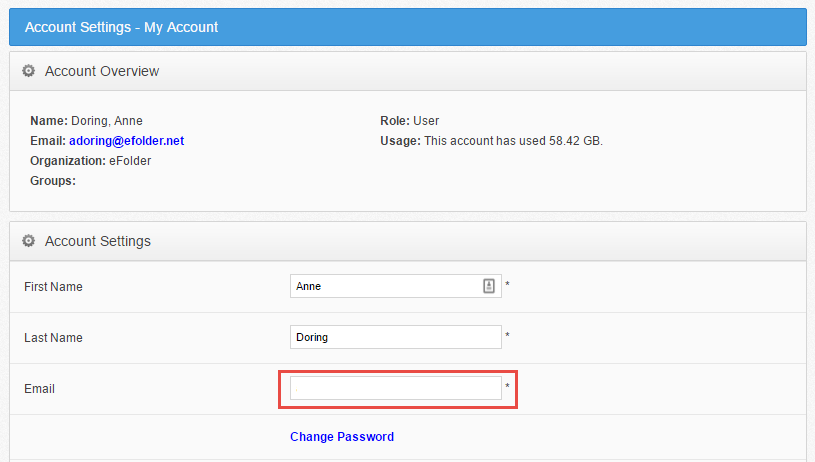 Alternatively, guest accounts can click the My Account button.





The Guest Settings page displays, allowing the user to delete the account, or change the email address associated with the account.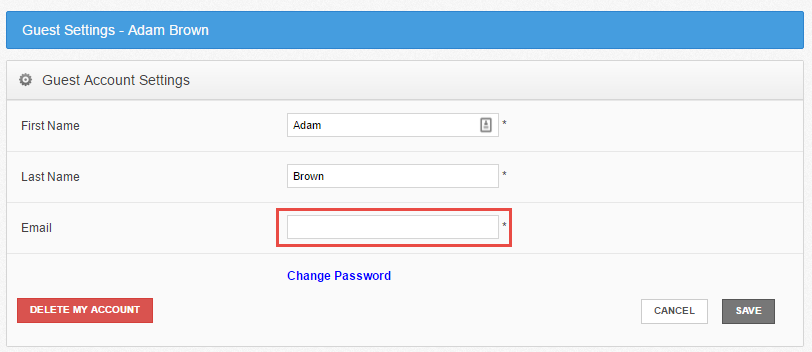 After the email address has been changed, or the original account has been deleted, an administrator will be able to create a new account for this end user.